Shoot to Score coming back to Yellowknife
---
---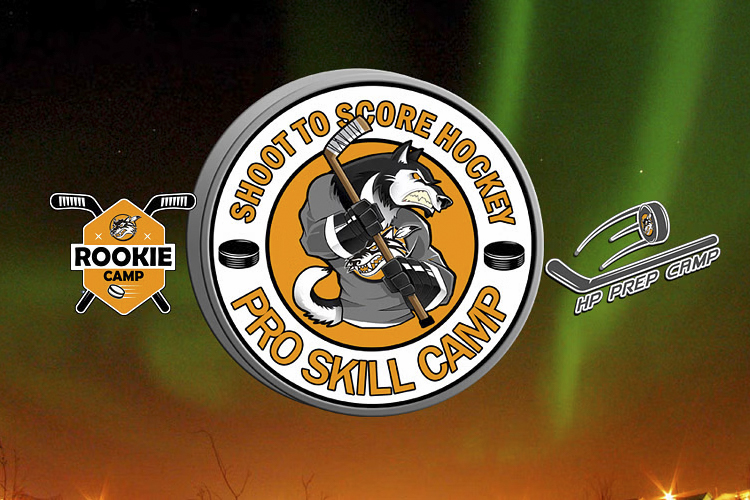 ---
SIGN UP: https://campscui.active.com/orgs/ShoottoScoreCAD#/selectSessions/3265731/filter/location=478602
Shoot to Score Hockey is very excited to announce that we have been invited by Hockey NWT to hold a summer program August 21 - 25 at the Yellowknife Multiplex!
Here at STS, we are always doing what we can to stay one step ahead when it comes to quality, first-class hockey coaching. Fundamental skill development will always be a top priority in our instruction, but the game evolves rapidly, and so should your player's coaching.
There will be FIVE PROGRAM options! Our very popular HEADS-UP HOCKEY to start the day, followed by our BATTLE CAMP. Together the two camps offer a ALL-DAY/COMBO PROGRAM option for maximized development. For our younger players we have our ROOKIE CAMP and as always we have the HIGH PERFORMANCE PREP CAMP for the U15/U18 players.
Check out some of the highlights to the 2023 programs:
Updated HEADS UP HOCKEY

5 Star reviewed BATTLE CAMP

ALL DAY/Combo program

Goalies that register for HEADS UP HOCKEY get to participate in the Battle Camp FREE OF CHARGE!

Multi-Family Discount**
1) Heads Up Hockey - 2010- 2016 YOB. Focuses on these tools for a more advanced skill-set for your player:
• Hockey IQ - Physical skill development is always incredibly important - but more and more you are seeing the effective players on the ice are able to THINK the game as quickly as they can PLAY the game. Making smart decisions with and without the puck allow these players to increase point production, find themselves in critical areas more often, and make the game around them easier for their teammates!
• Compete Level - "Hard work beats talent when talents fails to work hard enough." Hockey is most fun when you are giving it 100% of your attention and ability. This is why we have added multiple drills to our camp that really engage the player, while still developing their game! More small-area drills, more time spent working hard for possession of the puck, more drills with pressure on the player to make quicker and smarter decisions. All of this is in a high-tempo on-ice session with little down-time to maximize development!
• Anticipate, Focus, and Engage! - Teaching a player to read-and-react to different situations that arise throughout a hockey game is a skill we need to focus on more. Let us introduce your player to these concepts and get them going on the right path to becoming the most effective hockey player they can be!
• 7.5 Hours of on-ice training and 5 hours of hockey specific off-ice training.
• Goalies receive an extra 5 hours of Goalie Only on-ice training, PLUS goalies get to participate in the Battle Camp FREE OF CHARGE!
Registration is LIMITED, $495*
2) BATTLE Camp - 2010 - 2016 YOB. Hockey is a continuous series of small area battles/games that take place across the entire rink. Battle camp is designed to teach players how to compete both on the offensive and defensive sides of the puck . This program is a high tempo challenging camp set in a fun yet safe environment. Players will receive 7.5 hours of on-ice training with high reps and limited down time between drills under the professional instruction of our Shoot to Score Hockey staff.
Registration is LIMITED, $295*
3) All Day Program/COMBO Program - 2010 - 2016 YOB. Register for the Heads Up AND Battle Camp and your player is with us all day! Combo program adds a lunch break and Video/Classroom session, we might even have a few special guests speaking with our athletes! Register for both and save an additional 10% off the Battle Camp.
4) HP Prep Camp - 2006 - 2010 YOB. For High performance U15 & U18 players preparing for their upcoming training camps. This program consists of over seven hours of on ice high tempo/low down time training.
Registration is LIMITED, $295*
5) Rookie Camp - This camp is designed for players born in 2017 & 2018 and offers an hour of on-ice training each day. Skating and puck skills are the main focuses of this program taught in a fun, safe and educational environment. *DISCLAIMER* This is NOT a learn to skate program, players MUST be able to skate without help or aid.
Registration is LIMITED $225*
We firmly believe our time spent updating our NWT program will set your player up for an awesome 2023-2024 hockey season! We are looking forward to a great turnout this year. If you have any questions please feel free to contact me.
See you in August!
Jamie Leach
"Keep your head up and separate yourself!"
* Includes all taxes & fees
** SAVE an additional 10% with Multi- Family Discount.